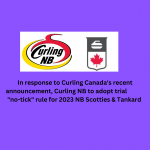 As Curling Canada has recently announced the implementation of the WCF trial "no-tick" rule for the 2023 Scotties and Brier, Curling NB will follow suit at the 2023 NB Scotties and Tankard. For details, click the following Curling Canada link. https://www.curling.ca/blog/2022/10/14/trial-no-tick-rule/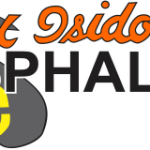 Since its introduction, the New Brunswick Curling Club Championships has proven to be a popular event on the Provincial curling calendar. It gives club curlers a chance to represent their Province at a National Championship and provide participants with an experience that will last a lifetime. Curling NB wants to ensure that the club championship…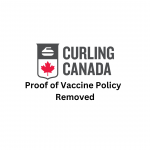 With the recent Canadian government easing of COVID-19 policies and restrictions, Curling Canada is removing the required proof of vaccination for all championships and events it operates. The policy will be removed immediately. Also, see below for the latest update from Canada's Sport Medicine Advisory Committee. English – https://conta.cc/3ebS7rp French – https://conta.cc/3CAiXmx Danny LamoureuxCurling CanadaExecutive Director of Curler…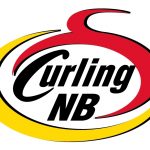 The Curling New Brunswick Hall of Fame is set to announce the first ever group of inductees during N.B. Curling Week Jan. 16, 2022 – Jan. 22, 2022. Inductees for 2022 NB Curling Hall of Fame Ken Grattan – BuilderRon Hutton – BuilderJim Sullivan Rink 1988 Junior – TeamHeidi Hanlon Rink – TeamJim Sullivan –…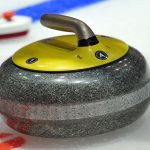 The 2022 NB Masters Committee announced today the postponement of the 2022 NB Masters Championship to Feb 25-28 with an extended registration deadline date to Feb 4.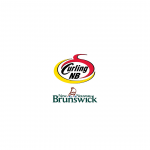 We sincerely regret to inform you that as per today's GNB press conference, the Province will move to a modified Level 2 phase. As of tomorrow (December 13th at 11:59pm) organized sport and recreation will be restricted as follows: All sport and recreation activities for youth under the age of 12 are suspended until further…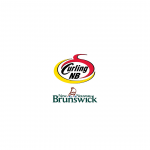 Good afternoon, As announced last Friday, the Province will now be operating under 3 level phases under the Winter Action Plan. At this time, we are still trying to confirm details on the restrictions these levels may have on the sport and recreation sector. We hope to share a document with information for all 3…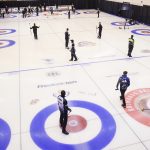 Curling NB is requiring all coaches of teams competing in 2022 Curling NB Championships leading to a National Championship complete Safe Sport Training and Screening. Details have been e-mailed to coaches and forwarded to clubs.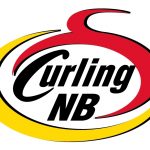 The Semi-Annual Meeting of Curling NB will be held by video conference on Sunday, November 7 @ 2:00PM. Affiliated NB curling clubs are required to forward delegate information to Curling NB on or before Friday, Oct. 29.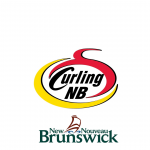 Good afternoon, As announced at todays GNB Press Conference and this news release, please note that all indoor or outdoor sport tournaments, bonspiels, meets, etc. are not permitted until at least mid-January. This official directive is to support the guidance that was given to PSOs on December 9th and is in effect immediately regardless for…