Curling NB introduces the Curling NB Newsletter-Oct 2023 which includes a message from President, Gail Samaan. The Newsletter can be viewed on this web site under the NEWS tab or by clicking the following link. Curling NB Newsletter-Oct 2023Download

Curling NB is very pleased to announce a three year partnership with Brokerlink. Not only are they the title sponsor of our Mixed Doubles Championship, they are also offering exclusive automotive & property insurance rates to Curling NB members. Curling NB affiliated clubs can also benefit with potential sponsorship opportunities of club events. Further details…
From grassroots to the highest level of competition, coaches play a vital role in our sport. Help us celebrate NB club & team curling coaches. In partnership with Coach NB, Curling NB will hold a random draw for 10 coach prize giveaways. Click link below to download the Submission Form. From Sept. 18-22, one random…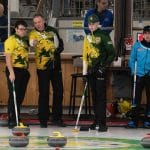 Further to Curling Canada's recent announcement regarding Coach Interaction Rules, a copy of the 2024 Provincial & National Coach Interaction Rules can be found on our website under "About NBCA/Policies, Rules & Forms" or by clicking the following link. https://curlingnb.com/wp-content/uploads/2023/08/Curling-Canada%E2%80%99s-U18-U21-Coach-Interaction-Rules-%E2%80%93-Pilot-year-2.pdf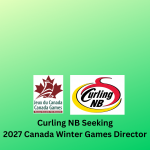 Curling NB announced this week that they are seeking a volunteer to assume the role of 2027 Canada Winter Games Coordinator. Details regarding the position and application process is available for viewing at https://curlingnb.com/wp-content/uploads/2023/08/CWG-Coordinator-Recruitment.pdf Deadline for expressions of interest is September 15, 2023.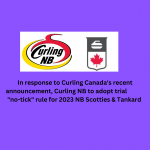 As Curling Canada has recently announced the implementation of the WCF trial "no-tick" rule for the 2023 Scotties and Brier, Curling NB will follow suit at the 2023 NB Scotties and Tankard. For details, click the following Curling Canada link. https://www.curling.ca/blog/2022/10/14/trial-no-tick-rule/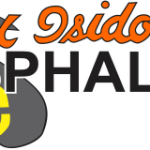 Since its introduction, the New Brunswick Curling Club Championships has proven to be a popular event on the Provincial curling calendar. It gives club curlers a chance to represent their Province at a National Championship and provide participants with an experience that will last a lifetime. Curling NB wants to ensure that the club championship…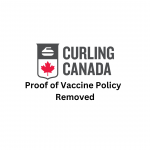 With the recent Canadian government easing of COVID-19 policies and restrictions, Curling Canada is removing the required proof of vaccination for all championships and events it operates. The policy will be removed immediately. Also, see below for the latest update from Canada's Sport Medicine Advisory Committee. English – https://conta.cc/3ebS7rp French – https://conta.cc/3CAiXmx Danny LamoureuxCurling CanadaExecutive Director of Curler…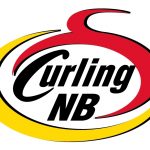 The Curling New Brunswick Hall of Fame is set to announce the first ever group of inductees during N.B. Curling Week Jan. 16, 2022 – Jan. 22, 2022. Inductees for 2022 NB Curling Hall of Fame Ken Grattan – BuilderRon Hutton – BuilderJim Sullivan Rink 1988 Junior – TeamHeidi Hanlon Rink – TeamJim Sullivan –…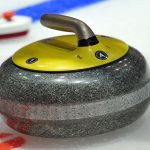 The 2022 NB Masters Committee announced today the postponement of the 2022 NB Masters Championship to Feb 25-28 with an extended registration deadline date to Feb 4.